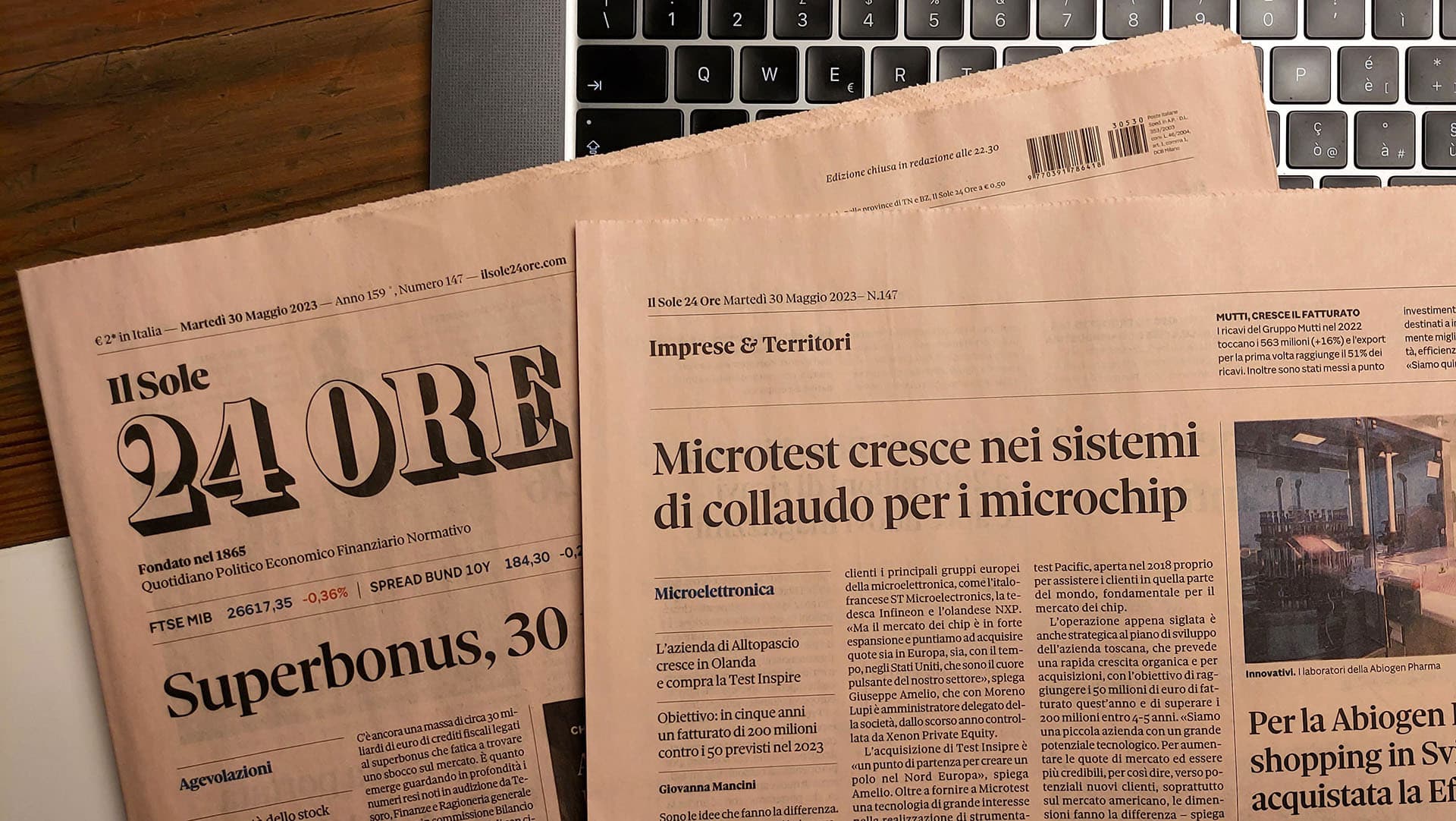 The Italian leader in microchip testing ended 2022 with a strong increase in sales (€32 million, up 50% from 2021) and workforce (165 employees, 60 new hires in 12 months)
Altopascio (LU) May 29, 2023 – Microtest Group, Italy's leading manufacturer of test programs and microchip and silicon wafer testing, has finalized the acquisition of Test Inspire, a Netherlands-based innovation-centered company, which operates in the same industry, and it is widely recognized for its highly specialized know-how in electronic measurement instrumentation.
This is the first acquisition embedded in the Group's international development strategy, which is one of the drivers of further growth that were identified by Xenon Private Equity, which – since 2022 – has been partnering with two of the founders and CEOs, Giuseppe Amelio and Moreno Lupi, aiming to establish Microtest as the leading platform in Europe for microchip and silicon wafer test systems and testing service.
Established in 1999 in Altopascio (Lucca, Italy), through major investments in R&D, Microtest has developed a distinctive technology that can handle all phases (design, engineering, testing, reliability and qualification) of silicon wafers and microchips, which are becoming increasingly vital in people's lives, owing to their countless number of useful applications. All of Microtest's solutions offer high performance, increased energy efficiency, and enhanced automation features that help optimize customers' operations. This way, the company has become the leading industry player in Italy and the privileged partner of the world leaders in microchip and semiconductor manufacturing, over the years. The company's internationalization path began in 2018, as it launched its subsidiary Microtest Pacific in Malacca, Malaysia. By acquiring Test Inspire, Microtest is adding "Viper" to its product portfolio: it is an innovative system providing a remarkably high degree of quality and data analysis.
Today, Microtest is divided into three business units:
Automatic Test Equipment and Burn In: It designs and manufactures machines (testers) for automatic testing and burn-in (oven-less) solutions for silicon wafers and integrated (semiconductor) equipment, which are mainly dedicated to the automotive, industrial, energy, sensor, and medical device markets;
Microelectronics: using a fabless approach, it follows all development processes of the new chip, all the way from design to industrialization;
Test House: with two operational locations, one in Italy and the other in Malaysia, it has provided silicon wafer and microchip testing services for the world's leading semiconductor manufacturers since its founding.
At present, the company has 28 patents, covering all stages of machinery manufacturing and related processes, in order to provide customers with innovative systems that deliver high multi-site efficiency, zero footprint, lower energy consumption and sustainable costs. Furthermore, the Group has developed partnerships with several universities, especially the electrical engineering departments of the Universities of Pisa and Florence. Indeed, 63% of the company's 165 employees (60 new employees hired in 2022) are engineers, physicists, or chemists, with a combined average age of 33 years old. Over a 12-month period, Microtest's state-of-the-art laboratories have tested 100 million products, which have multiple applications in everyday life: from automotive to 5G technologies, from medical devices to aerospace.
This innovation drive also results in excellent economic results. In terms of sales, Microtest exceeded 32 million euros in 2022 (+50% over the previous year), with an Ebitda margin above 38%, and growth outlook is significant. The semiconductor market is increasingly key to global technology development: according to Gartner, semiconductor sales in 2022 reached $601.7 billion in turnover, up from $595 billion in 2021, and in 2030 the market could be worth more than $1 trillion globally (McKinsey & Company data).
"The transaction we have just finalized projects us into the European scene and allows us to increase our performance, taking advantage of the solutions developed by Test Inspire, which is a highly innovative company in the Dutch testing sector," Giuseppe Amelio, CEO of Microtest, said. "I believe that our companies will complement each other in the best possible way, providing a significant contribution to the development of European know-how in the semiconductor test systems sector, in line with the European Commission's strategy. Thanks to Xenon's support, in the coming years we expect to pursue this path and bring together other strategic realities in the microelectronics component testing market to further expand our Group."